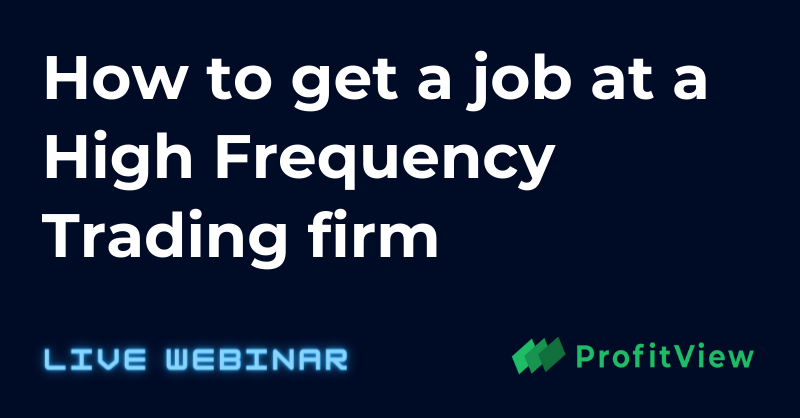 Webinar: How to get a job at a high-frequency trading digital-assets shop
Maybe, you want to know more about the high-frequency domain and consider applying in this particular domain. Then, this webinar, organized by ProfitView, should give you the necessary insights.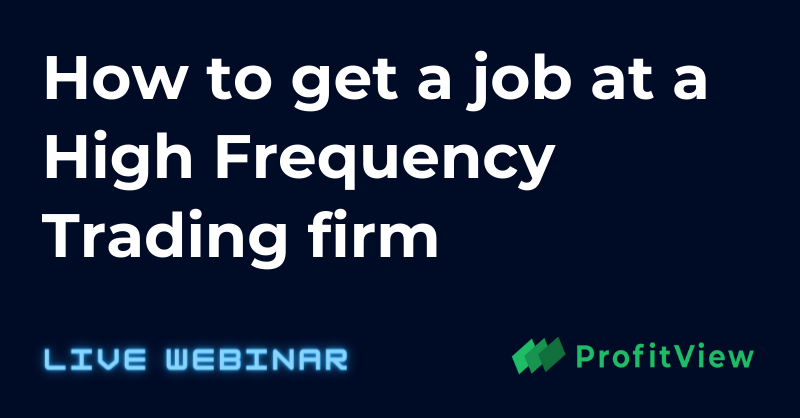 This post is a guest-post by Richard Hickling. He is a trading and risk technology expert and co-Founder at ProfitView.
My career began when I realised banks were something more than a small office you went to to open new accounts or get loans. As my understanding of the financial industry improved I saw that fundamentally trading was the centre. All other activities orbit around the trading desks.
I had to be involved.
Sign-up for ProfitView's webinar on getting hired at an HFT firm.
Modernes

C++

Mentoring
Be part of my mentoring programs:
"C++20: Get the Details" (reopens December 2023)
Do you want to stay informed about my mentoring programs: Subscribe via E-Mail.
So I moved out of my apartment in Paris, out of my industry – air-traffic control software – and definitely out of my comfort zone. I crossed the Channel in an old Renault, on the hydrofoil. This was before the Eurostar.
There's only one City
Before long I had a job in the City (and – of course – I mean the City of London). I was working on options trading market interfaces. It was confusing – I had no idea about these financial instruments – or indeed any financial instruments. What were they instrumenting? But I learned – haltingly. I became increasingly fascinated as layers of knowledge were revealed to me. I was hooked on trading.
Of course, I didn't trade myself. That was for a different type of mind. Traders are in a special category. I liken them to Formula 1 racing drivers. After every race Lewis Hamilton says "I couldn't do it without the team" – but everyone knows he's the nexus of the whole affair. Success revolves around his performance. So too for the trader.
20 years have passed since then. The world – and trading – has changed immensely in the intervening period. But, strangely, the role of the trader is still central. Now, as often as not she's an algorithmic trader. She works with quants to code up theoretical concepts in Python using machine learning models. Others translate these into C++ for deployment to the execution engines. The code must be optimal, since it will go into battle with competitors who have certainly optimised their code. This is the realm of high-frequency trading (HFT) where "a microsecond is eternity".
Digital Alpha
Enter digital assets. As I explain in another blog, cryptocurrencies on blockchains (or something similar) will inevitably come to take over the economy. This is the hot new area for HFT. Why? Because crypto markets' micro-structure is not yet well understood. How do you deal with an asset-class with such volatility? With unrestricted new issuances daily. With so many exchanges it effectively has an additional spatial dimension to contend with?
This is where the crypto funds live. Making markets, gathering data, working out how to minimise latency in the unavoidably jittery infrastructure of the cloud. Their secret is: it's the complexity that gives them the edge that gains alpha. Their systems to make sense of the madness are jealously guarded.
Portofino Technologies is one of the nimble new entrants in this space. Started by two Citadel alumni in 2021, they came out of stealth mode late last year.
And they're hiring.
If you want to know more – in detail, from their hiring team – you owe it to yourself to attend the webinar on (Tuesday) 28th February at 6pm GMT. You will have a chance to ask questions.
Thanks a lot to my Patreon Supporters: Matt Braun, Roman Postanciuc, Tobias Zindl, G Prvulovic, Reinhold Dröge, Abernitzke, Frank Grimm, Sakib, Broeserl, António Pina, Sergey Agafyin, Андрей Бурмистров, Jake, GS, Lawton Shoemake, Jozo Leko, John Breland, Venkat Nandam, Jose Francisco, Douglas Tinkham, Kuchlong Kuchlong, Robert Blanch, Truels Wissneth, Kris Kafka, Mario Luoni, Friedrich Huber, lennonli, Pramod Tikare Muralidhara, Peter Ware, Daniel Hufschläger, Alessandro Pezzato, Bob Perry, Satish Vangipuram, Andi Ireland, Richard Ohnemus, Michael Dunsky, Leo Goodstadt, John Wiederhirn, Yacob Cohen-Arazi, Florian Tischler, Robin Furness, Michael Young, Holger Detering, Bernd Mühlhaus, Matthieu Bolt, Stephen Kelley, Kyle Dean, Tusar Palauri, Dmitry Farberov, Juan Dent, George Liao, Daniel Ceperley, Jon T Hess, Stephen Totten, Wolfgang Fütterer, Matthias Grün, Phillip Diekmann, Ben Atakora, Ann Shatoff, Rob North, Bhavith C Achar, and Marco Parri Empoli.
Thanks, in particular, to Jon Hess, Lakshman, Christian Wittenhorst, Sherhy Pyton, Dendi Suhubdy, Sudhakar Belagurusamy, Richard Sargeant, Rusty Fleming, John Nebel, Mipko, Alicja Kaminska, Slavko Radman, and David Poole.
Seminars
I'm happy to give online seminars or face-to-face seminars worldwide. Please call me if you have any questions.
Bookable
German
Standard Seminars (English/German)
Here is a compilation of my standard seminars. These seminars are only meant to give you a first orientation.
C++ – The Core Language
C++ – The Standard Library
C++ – Compact
C++11 and C++14
Concurrency with Modern C++
Design Pattern and Architectural Pattern with C++
Embedded Programming with Modern C++
Generic Programming (Templates) with C++
New
Clean Code with Modern C++
C++20
Contact Me
Modernes C++ Mentoring,

https://www.modernescpp.com/wp-content/uploads/2023/02/8-how-to-get-job-hft-firm.png
418
800
Rainer Grimm
https://www.modernescpp.com/wp-content/uploads/2023/02/logo_mcpp-blog-news2_287x52.png
Rainer Grimm
2023-02-25 06:53:10
2023-02-25 06:53:10
Webinar: How to get a job at a high-frequency trading digital-assets shop